The annual festival that gathers young people passionate about photography was a success again this year, which was the fifth edition. The award ceremony, which was held on September 11 in the courtyard of the Tirana art Gallery, has now become a  tradition. Present at the ceremony were the deputy mayor of the Municipality of Tirana, Mr. Andi Seferi, the honorable jury and the director of the gallery Mr. Abaz Hodo.
The festival was organized by DMO Albania, with the support of Tirana Municipality for the 5th year in a row. A two-week festival from September 11 to 23, where during this period of time an exhibition with 100 finalist photos was opened to the public on the third floor of the Tirana Art Gallery (Kavaja Street).
During the days of the festival, photography workshops are held with Bevis Fusha (September 12-13), Armand Habazaj (September 19-20), Albert Cmet (photo safari September 16-17).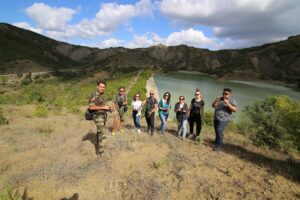 Winners of this edition are:
First Prize: Joni Margjeka(violinist in the window) made possible by the Municipality of Tirana with value of 50000 ALL.
Second prize of festival(30000 ALL): Nina Kanina-the inner of the series competition from Albania.
Third prize of festival (10000 ALL): Sotjon Gaspari -Winner photo(emigration-photo taken in "Mother Teresa Airport").
Griseld Hoxha(10000 ALL); Winner photo (youth in coffe)
Prize of the most creative photo : Eris Baki was awarded the prize for the most creative and conceptual photo and was given a camera sponsored from Camera Store Albania.
Prize of the  "best video " of the competition "Green Albania": Elion Zenelaj winner of the prize, made possible by the Municipality of Tirana with value of 20000 ALL.
This edition also surprised some other competitors by awarding them with special and encouraging prizes.
Special prize of the category "Youthhood" -Marjo Gjini
Best photo of "Albania in foreign focus"-Jerry Damian
Best photo of "Street Photography"- Fiorela Shalsi
Best photo of "Villiage life"- Ermal Hallaci
Prize of "Photo travel"- Fabian Kazo
Special prize of photographer of 5 years festival – Ina Toska (Album nga EjAlbum)